Description: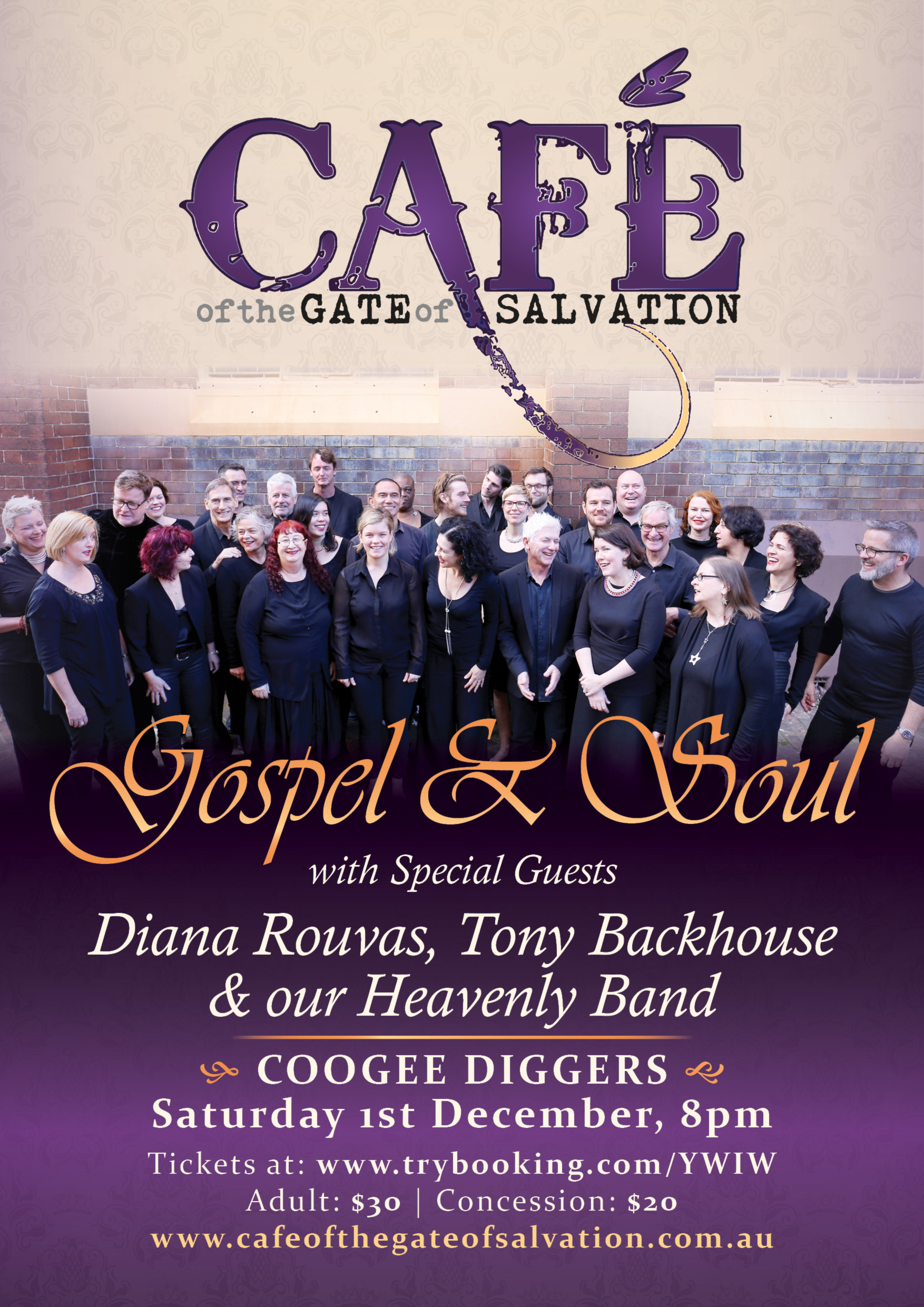 Please join us and our Heavenly Band as we take you on a soul-stirring gospel and soul evening. We are delighted to welcome back our special guest, the fabulous, Diana Rouvas, and our founder, Tony Backhouse.

From the mass choir gospel arrangements of Rev. James Cleveland, to the band-driven grooves of Sam Cooke and Aretha Franklin, we'll take you to the river, quench your soul and electrify your spirit with our delectable gospel and soul selection - come on down and be revived!


______________________________________________________________________________________________________
DIANA ROUVAS

If tenacity, fearlessness and creativity are the marks of a true artist, then Diana Rouvas was born for the role. A self-confessed perfectionist and dreamer-turned-doer, this Sydney-born vocalist and songwriter has lived and breathed music since she could barely speak.

For her upcoming single Heart of Goodbye, Rouvas collaborated with ARIA-nominated songwriter/ producer Louis Schoorl (Daniel Johns, The Veronicas, Tina Arena) and UK mixmaster Sermstyle, who produced the #1 smash Timber (Pitbull featuring Ke$ha). The result is a flavoursome, uplifting soul-meets-pop track that has its roots deep in 70s throwback cool, with a very on-the-pulse feel. "Heart Of Goodbye explores the comfort people find in staying where they are, even if it isn't working for them. The song acknowledges the light and the dark, which ultimately make us who we are", says Diana.

Having grown up in a very musical family, Rouvas made her onstage debut at a young age and was a music industry veteran by the time she was twenty years old. She began serious vocal training at just four and started writing music at seven. At sixteen, Rouvas travelled to the US to hone in on her songwriting skills and perform around the country, and by seventeen, she was touring internationally as a backup singer for Tina Arena. Over the last decade, she has become one of the darlings of the Sydney music scene and gained industry respect as an outstanding live vocalist. Diana has sung alongside some of Australia's most successful musicians, toured the world as a solo artist and even represented Australia by performing at the prestigious G'Day USA Australia Week showcase in Los Angeles.

In 2012, Rouvas was one of the final eight contestants on the first series of The Voice as part of Keith Urban's team. While many would argue that her defining moment was a vibrant and charismatic rendition of Beyoncé's Love On Top, her depth and nature as an artist wasn't truly felt until she floored the judges with a raw and incredibly sultry performance of blues standard Stormy Monday that was not only goosebump-inducing, but technically impressive.

As a songwriter, Rouvas is honest and passionate. Her music draws poetic inspiration from legendary storyteller Joni Mitchell and paired with the smooth and sexy grooves of 70s idols Stevie Wonder, Earth Wind and Fire, Chaka Khan and Chicago funk band RUFUS, which she has had the opportunity to collaborate with, her sound is as authentic as it is soulful. "I've always accessed my songwriting through a very creative, imaginative and almost spiritual place," she says of her practice. "My songs are always truthful - I wouldn't sing something I didn't believe in, so when I perform I want the audience to really connect with an emotion." Over the years, Rouvas has had a number of high-profile knocks on her door requesting the use of her songs, yet has decided to keep them close to her heart, resulting in an impressive body of work to choose from in her live performances.

In a sea of electronic bleeps and production overkill, Diana Rouvas is a breath of fresh air. An accomplished entertainer with an old-school approach of integrity, determination and detail and a youthful but sexy on-stage magnetism that is completely her own. She is a musician's musician, the real deal, and you bet she's in it for the long haul.

Heart of Goodbye is out April 25 and is available for pre-order.